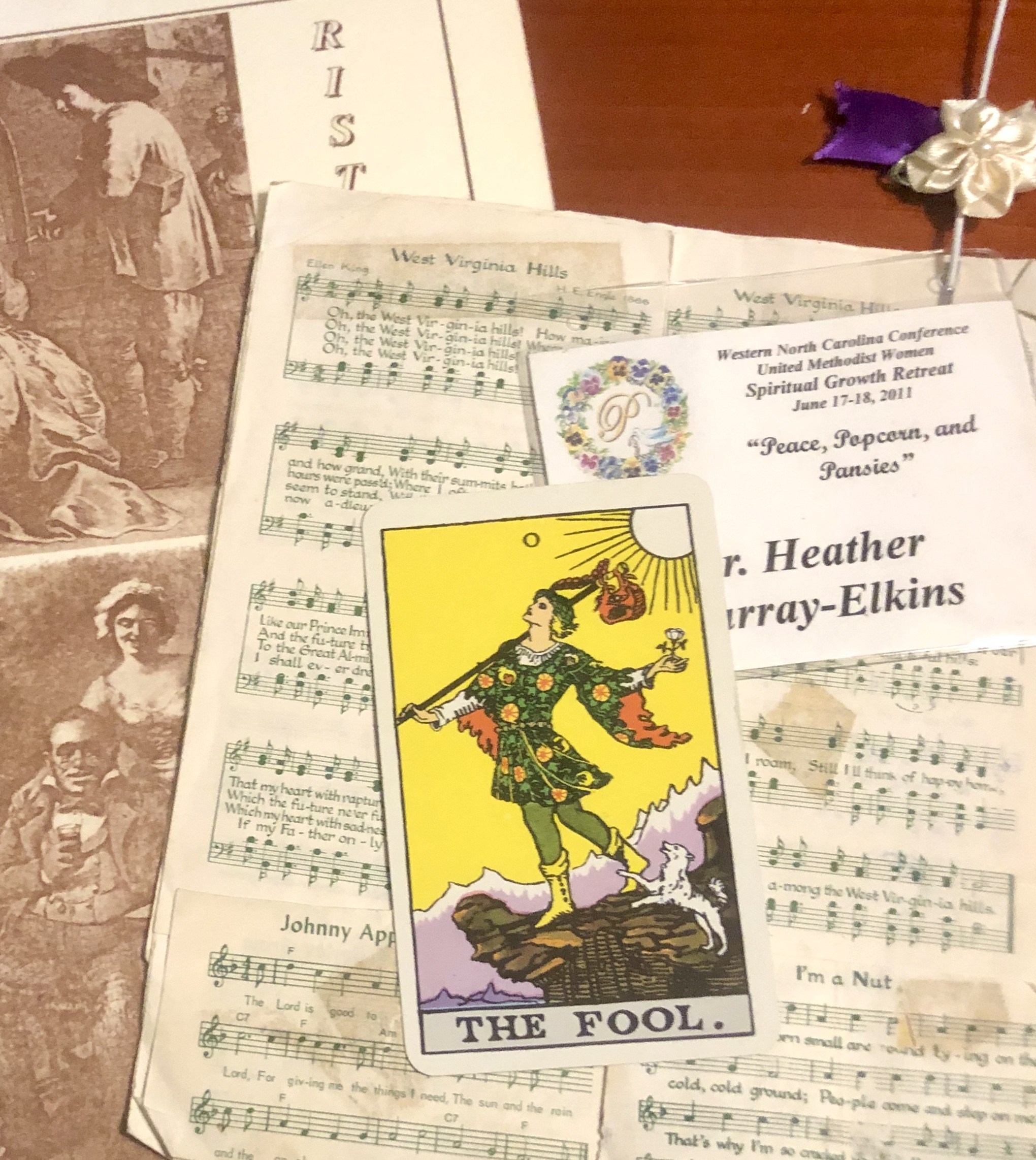 I confess. I've been convicted by a jury of my possessions. I'm addicted to stuff that is stuffed with stories. It's been one year and one day since my transplant from the Forest in the Garden State began and I'm finally down to packing my last box in the Copperbeech basement. It's a scene straight out of Star Wars, treading on trash as the walls and the timeline compact together.  I dream of shouting "It is finished!" as I head south but the truth is, there's a basement and a storage unit stuffed with stuff waiting to be sorted in Delaware.
If I ever doubted the truth of Purgatory, I'm now a true believer.  Try sorting through 36 years of bankers' boxes filled to the brim with charge conference papers, old syllabi, check stubs, because there might be an insurance policy, a marriage license, forgotten poems, and photos of loved ones long gone. There's a reasonable explanation. Bill would serve a church without a parsonage, so we'd live at the edge of Drew. He'd get a new church appointment with parsonage and we'd store whatever we didn't have time to sort in our Copperbeech basement and move out. People expect pastors to live in parsonages, so my brief interlude of walking to work to teach was very brief indeed. I've lost track of all the Drew faculty, staff, graduate students and alums over the years who've been sheltered in the place that housed our tangible memories.
The extent of my addiction was sobering. Basement shelves stacked and stocked. Boxes of stuff and stuff that had escaped confinement. If it was just paperwork I could blame it all on Bill's omnibus filing system, but there's stuff stuff. For example: 3 slow cookers, 3 electric drills, 3 wooden rockers, 3 CD players witness to my trinitarian world view, or my poor memory. There are also God knows how many paintings, videos, church bazar Christmas decorations, and unidentifiable things that some future archeologist will simply label "ritual object".
I'm forced to puzzle over what to keep and what to lose. I'm grateful whenever I don't remember how this (fill in the blank) got in the basement. Out it goes. Some artifacts, however, have memories stuck on with super glue. Example:
A laminated menu from my first travel seminar to Florence with Bert Thompson. We followed the trail of Bard's last book, Humanists and Reformers. The class dined at the restaurant that once housed Dante and I left with a text that promised a taste of Paradise.
Pages from a camp songbook pasted together by my mother. These are some she would require visitors to the Old Hotel to join in her in singing as part of her tours. The collection speaks for itself: "The West Virginia Hills", the "Johnny Appleseed song", and one of her favorites, "I'm a Nut".
A name tag from a conference that caused me several sleepless nights. The Western North Carolina Conference of the United Methodist Women set the theme: "Peace, Popcorn, and Pansies". I'd agreed before the title reached me. My careful questions about the origin of the theme provided little help. My presentations have not survived, although I remember something about the Native American origin of popcorn, the painful history of Chief Junaluska and the trail of tears. Somewhere in there was a description of how popcorn actually works (water in the kernel + fire=pop!) I think we ended up with repentance, forgiveness, baptism and the Holy Spirit.

The Pansies presentation was last. Bright and brave blossoms. The flower symbolizes love and admiration; its origin from the French word, "pensee", to think. I don't think they'd thought it through, though. It's also used to mean "coward" or "queer". I invited them to think about it with a story about a volunteer gardener who kept the UMC church yard blooming like a place out of Homes and Garden even though, even though, the Discipline 304.3 states, "Homosexuality is incompatible with Christian teaching".

The last of this collection is the Tarot card of the Fool. It must have fallen out of one of my youngest sister's boxes that I've stored over the years. A barefoot beggar, a vagabond, can either mean creativity or chaos, spontaneity or stupidity.
I consider my options; it may be a mixed bag for me. From Paradise Lost to pansies to popcorn, I'm a Nut. It's time to travel with less baggage. I thank my object lessons and gently place them in the To Be Recycled Bin.