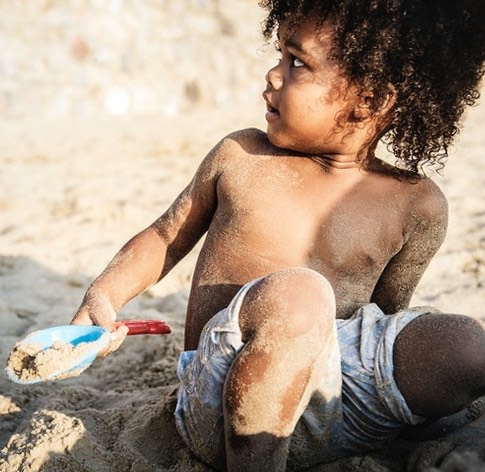 The Trinity is a classic conundrum for theologians. How do you explain the mystery in a way that doesn't mystify?  Augustine is struggling with that problem as he walks by the seaside, taking a break from his writing, On the Trinity.  He notices a small child digging in the sand with a seashell. The child is pouring water from the sea into the small hole in the sand.
Curiousity stirred, Augustine finally asks what the child is doing. "Putting all the water from the sea into the hole", was the quick answer. Perhaps Augustine is kind, but he makes his critique clear. Sea=big. Hole=small. Effort=pointless.
The child listens, smiles, and answers. "Indeed, but I will draw all the water from the sea and empty it into this hole before you will succeed in penetrating the mystery of the Holy Trinity with your small mind."  Point made, the child disappears.
I like a legend that upends the hierarchies of age, and education, and priviledge.  This particular one can be traced to a 13th century collection of saints' lives by Jacobus De Voragine, Golden Legend . Jacobus was a Dominican scholar of Augustine, and his reading audience was Dominican preachers known for their storytelling. The seaside story is added to the collection when it's translated into English. Its"truthfulness" is based on scene painted on an altar in Antwerp. Oh, the dangers of mixing art and theology!
Such is the stuff of legends. As we tread water in the here and now, surrounded by sinking ships of state,  I offer this triune reflection. It's best to count on one's fingers when trying to make things add up. This teaching is designed for children and those wise enough to trust in mystery.
Psalm 139
Holy One,  Holy Three, you have searched me and known me!
You know when I sit down and when I rise up;
    you discern my thoughts from afar.
You search out my path and my lying down,
and are acquainted with all my ways.
Even before a word is on my tongue,
Holy One, Holy Three,
   you know it all together.
You pursue me behind and before,
and lay your hand upon me.
Such knowledge is too wonderful for me;
   it  is high, I  cannot attain it.
Three is One and One is Three,
Raise two fingers, thumb on "three" then shift to index finger on "one"
And the One in the middle created me. (point to heart)
Where shall I go from your spirit?
Or where shall I flee from your presence?
If I ascend to heaven, you are there!
If I make my bed in Sheol, you are there!
If I take the wings of the morning
   and dwell in the uttermost parts of the sea,
Even there your hand shall lead me,
   and your right hand shall hold me.
If I say, "Let only darkness cover me,
and the light about me be night,"
Even the darkness is not dark to you,
   the night is bright as the day;
   for darkness is as light with you.
Three is One and One is Three,
And the One in the middle was born for me.
(link hands to make cradling gestures)
For it was you who formed my inward parts,
  You knit me together in my mother's womb.
I praise you, for you are fearful and wonderful.
Wonderful are your works!
You know me very well;
my frame was not hidden from you,
   when I was being made in secret,
    intricately wrought in the depths of the earth.
Your eyes beheld my unformed substance,
   in your book were written
   the days that were formed for me,
   every day, before they came into existence.
How profound to me are your thoughts, O God!
How vast is the sum of them!
If I could count them,
   they are more than the sand,
   when I awake, I am still with you.
When I awake, you ate still with me.
Three is One and One is Three,
And the One in the middle will set us free.
(Raise arms and open hands on the word "free".)