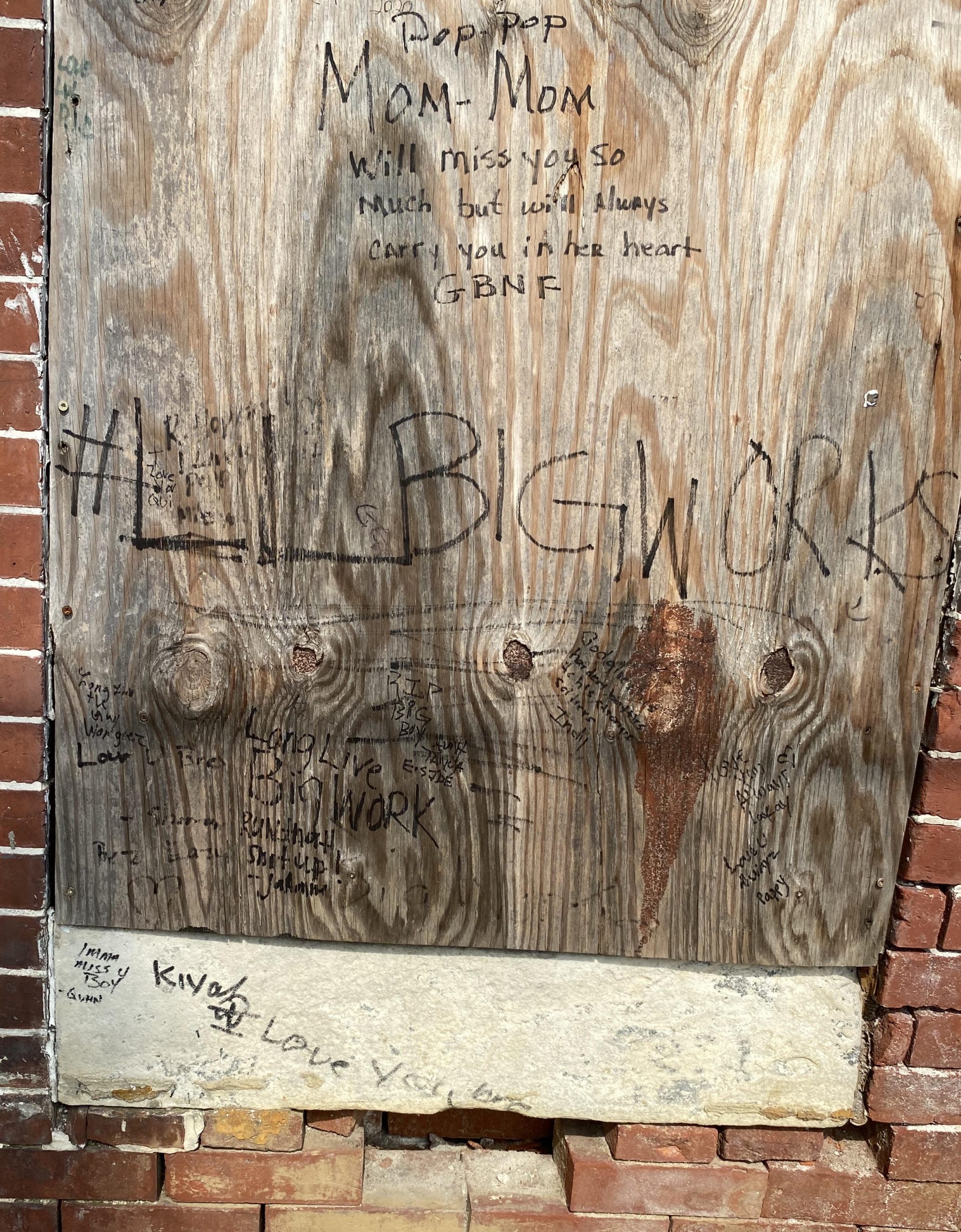 The task is trash. The Cause: #KeepingDelawareBeautiful . That translates as: City Clean Up.
The call to serve comes from Governor John Carney. Since Lions have a nose for need, Bellefonte Lions/Leos and Zakat Leos gather, channeled by Shirlle "Diamond" Hogans and Hayat Nasru Omar. We join other volunteers along with Senator Tizzy Lockman and Councilwoman Michelle Harlee. This will be a very public clean-up of these public streets.
I gear up for the assignment. My mask is a going-away present from my Drew Korean students, matched with Walgreen gloves, a yellow Lion vest, and Bill's high-end pickup stick. I want to make some small difference in the midst of this whirlwind that's trashing city streets, smashing lives, and wrecking dreams for liberty and justice for all. Collecting garbage isn't glamorous, but it's essential to beauty and community.
I sit on a concrete stoop, admiring the occasional flower in the black iron window boxes and the old bricks that frame this Wilmington neighborhood. We wait through the short speeches, and official thanks for our assignments. Since the city workers did a good job before the volunteers arrive, we go looking for streets that need some TLC.
I think about those who live in the neighborhood, wonder what they make of us, a band of masked trash collectors.  I know some neighbors have donned city vests to volunteer.  One grandma, wearing a tee shirt celebrating her grandson's graduation, nods approval from her stoop.  It's important to resist the temptation to think about the lives behind the doors as dependent upon those more fortunate. This is a form of "cleaning up" that trashes; a false charity that contaminates.  If we mistake ourselves as the cleaner-uppers, the givers of beauty, as if we are more powerful, competent or self-sufficient than those who live behind the doors we pass, then this is not, nor will it ever be, the beloved community.
I get a lesson on this from Bill's "nifty-nabber".  With its long handle and delicate rubber tips I can pick up straw wrappers, cigarette butts and even the tell-tale postage-stamp size plastic baggies that once held heroin.  What I can't do is put whatever I pick up in a trash bag by myself. The handle is too long.  I need someone to hold the bag or the work is pointless.  A Leo named Adam comes to my aid and we teamwork the corner until it's clean.
You can't fix this kind of trash by yourself.  Creating and sustaining community needs two or three somebodies, or better still a neighborhood, a village, a city, a nation who wants to thrive as well as survive.  Shared power, generosity, creativity, love and human imagination are required for beautifying Delaware, or any state of affairs.
And speaking of beauty, love, and human imagination, I discover a threshold for these on the corner of 10th and Bennett. It's a boarded-up doorway.  It's also a plywood love letter, written out loud/proud with magic markers.
I 
  U, Fat Dad-
Wife
Pop-Pop,
Mom-Mom
Will miss you so
much but will always
carry you in her heart.  GBN
#Runitup 4 POPPY             LOVE YOU Cuzin
love ya Ba!
R.I.P. Last Side 4 ever
long live Big Work!!  R.I.P. BIG BOY
And at the edge of a knothole are these words:
"God gives his hardest battles to his strongest soldiers." 
The hardest battles… Delaware is the first state to ratify the US Constitution. What does it mean to "beautify"?  Keats wrote: "Beauty is truth, truth beauty, –that is all ye know on earth and all ye need to know." In front of this battleground doorway of love and loss, I think I hear Lincoln. "To dedicate ourselves to the unfinished work which they who fought here have thus far so nobly advanced… and resolve that this nation, under God, shall have a new birth of freedom, and that government of the people, by the people, for the people, shall not perish from the earth."  With resolve then, there's clean-up work to be done.