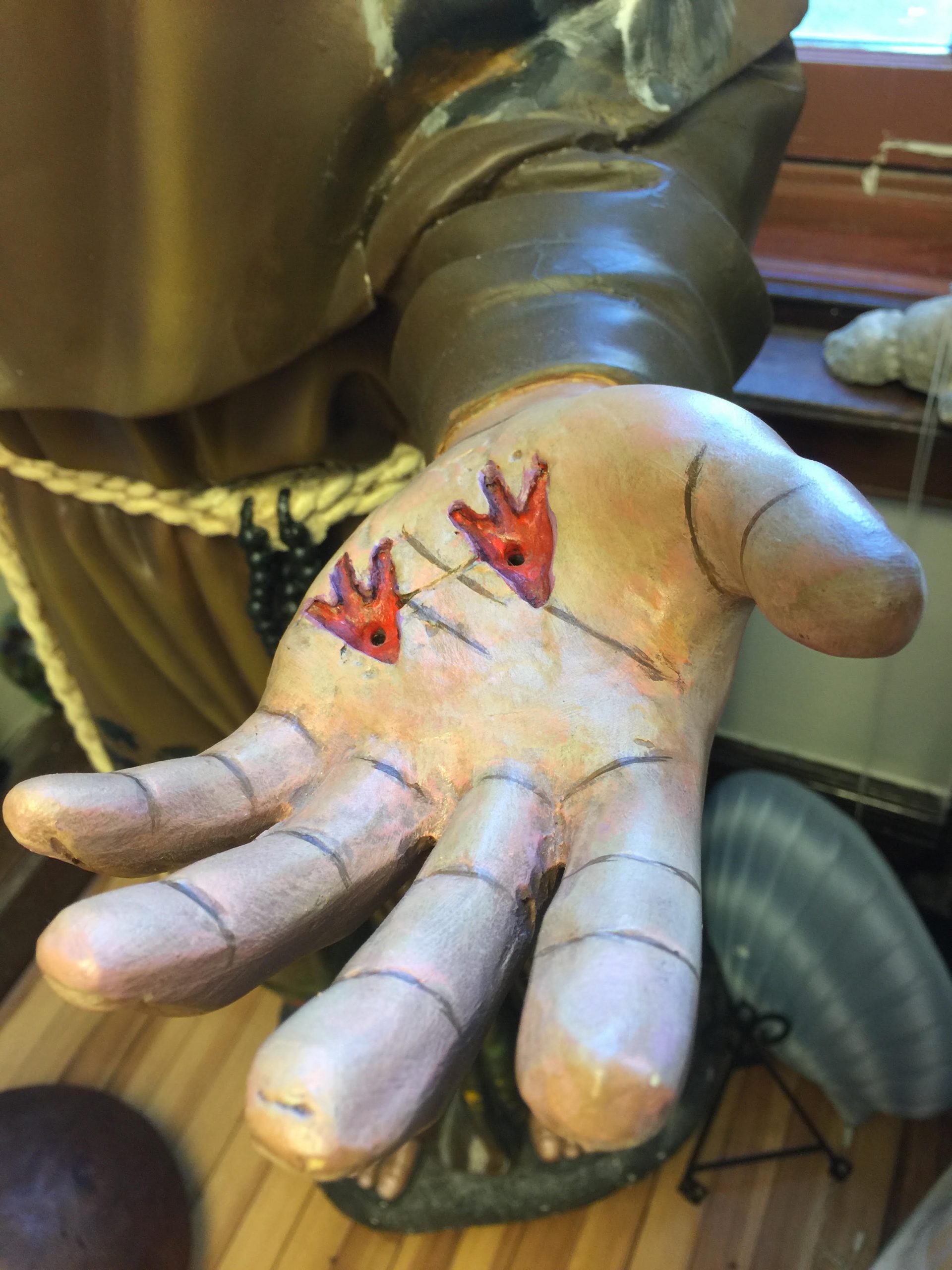 I stop to shop because the humming bird wind chines are just what I need to listen to, if not acquire. My rule, which my husband doesn't believe I follow, is to inspect an object on sale closely and then walk around and look at other things.  If it still seems to be speaking to me after three tours around the store, then home we go together.  This visit doesn't take three turns.  I've wandered out to the backyard of this side-of-the road garden store and found what I've come for. It isn't a what; it's a who, St. Francis. The 6-foot plastic saint has seen better days. He's suffering from sunstroke, blue eyes faded, his fair complexion freckled by missing paint; his hands seem to be suffering from leprosy. To add insult to injury, the two birds that traditionally perch on St. Francis have taken flight. There are bird feet shaped holes on his shoulder and in his outstretched hand. Perhaps they were stolen, or maybe the birds didn't like his preaching. in any case, he's wingless.
There's no price tag, so I'm hopeful. Unfortunately, the owner hasn't missed my shock of recognition. Even after pointing out the flaws, the price is out of reach, particularly since plastic can't be used to purchase even a plastic saint. I promise Francis I'll be back.
It takes a little longer than planned. All my appeals to the dean go unanswered. There seems little interest in having St. Francis occupy a corner in our chapel. Terry Todd, colleague and conspirator, provides the bond money and I do the four-hour drive to rescue a saint.
The saint's arrival creates a cascade of transformations. Bon Jeong Koo, student and professional artist, heals Francis of leprosy and decorates his robe with every creature he'd seen in the forest of Drew. Deer, butterflies, robins, and of course, squirrels. It's his contribution to the Ministry and Imagination class taught by me and Lynne Westfield and it is art and imagination and ministry.
What is most striking to me is how Koo solves the problem of the missing birds. The holes in the shoulder he fills in and paints over. The imprint of bird feet on the saints outstretched palm have not been filled in; they've been painted a scarlet red, a virtual wound. When I ask why, Koo simply answers, "It's the kind of stigmata he'd have." Exactly. Bird-shaped wounds belong to this saint who began his lonely ministry by preaching to the birds since no human wanted to hear him.
St Francis welcomes all who come by our office doors, but since he's so lifelike, the shock doesn't wear off. We agree to let him live in my office until needed for public display. Working late one evening I learn he's been about his ministry. One of the cleaning staff asks if he could visit St. Francis after he finishes his rounds. I think he's probably thinking it's better to ask, since I know he has the keys. "He's my saint, see." he says, anxious that I've taken offense. I tell him I'm delighted, and to visit St. Francis whenever he can.
I start reading up on the saint since he's actually got my back. The more I read, the more restless I get with his fair skin, light hair, and blue eyes. There are written records about his laughing brown eyes and earth-toned hands. A blue-eyed boy will not do. A second artist/scholar comes to the rescue, Richard Romero. He understands the problem, and a trans-ethnic transformation takes place. Brown skin, brown eyes, and the tonsure disappears. When I ask he says, "This is a young Francis."
He seems ageless. He moves through Seminary Hall, following a call to be an instrument of peace, an advocate for eco-justice, a reminder of the communion of saints and the beauty of creation and creatures bright and beautiful, great and small.  This Forest Saint is known to possess a strange sense of humor. He like dressing up and startling strangers and friends alike.
When I finally take my leave from the Forest, I read him a poem, source unknown, that I've read to him before.
Squirrel Poem by St. Francis of Assisi (I just discovered this poem by St. Francis of Assisi)
THE SACRAMENTS
I once spoke to my friend, an old squirrel, about the Sacraments –
he got so excited
and ran into a hollow in his tree and came
back holding some acorns, an owl feather,
and a ribbon he had found.
And I just smiled and said, "Yes, dear,
you understand:
everything imparts
His grace."
We understand. Everything imparts Love's grace.