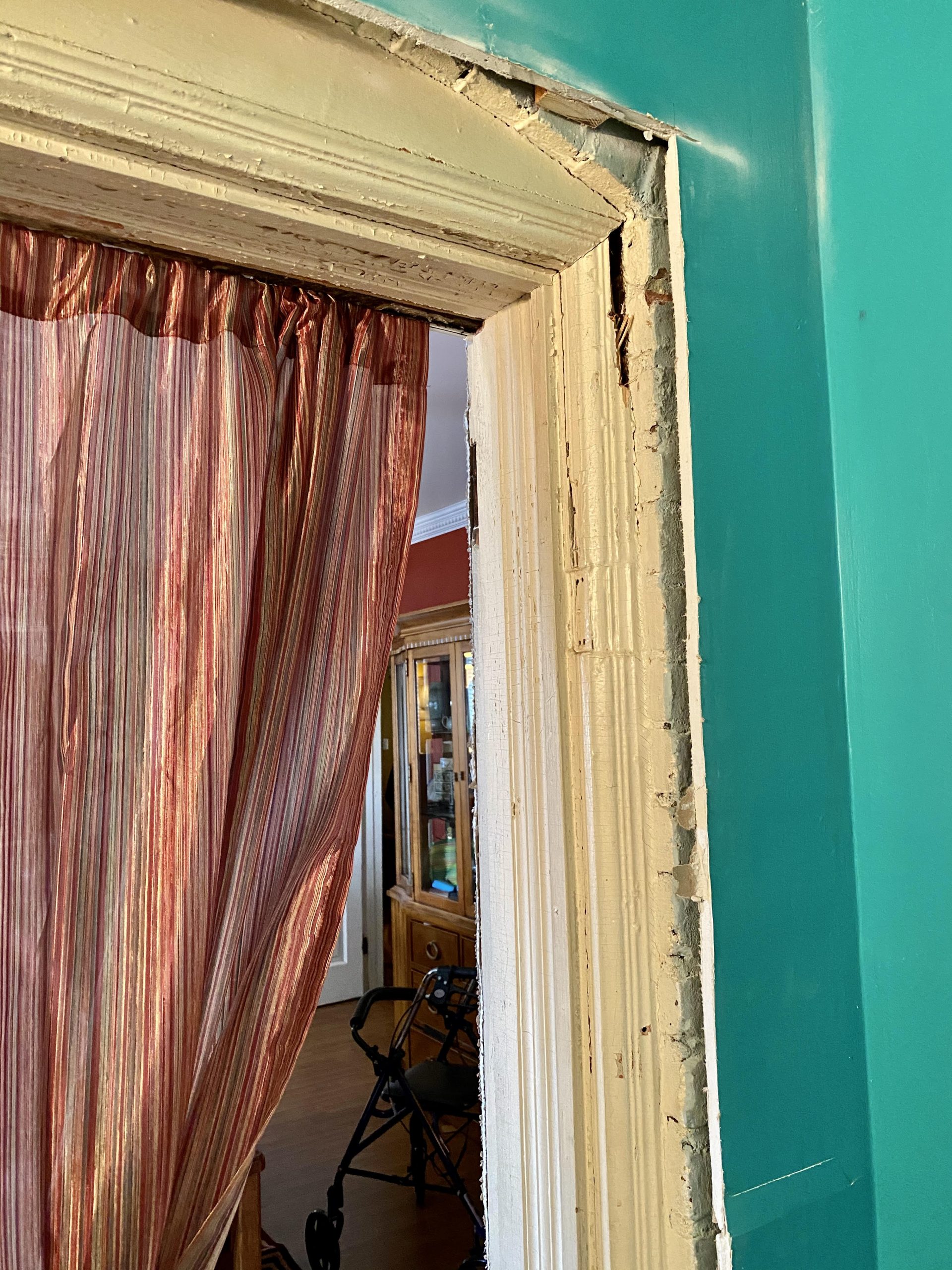 When is a door not a door.
When it's ajar.
Crossing a threshold can be an unconscious act. We go through doorways countless times during a day. It can also require intense concentration and even prayer, particularly as age increases and ability goes in another direction.
Moving into an unfamiliar space requires one to be doubly conscious of doors. Where are they? Where do they lead? I could tell when I'd been on the road too long. I'd wake up at night and have to turn on the light to find the bathroom door.
Our shelter in the Covid storm is an old farmhouse that we share with our family, Daniel and Jess.  There are doors galore. There are antique pocket doors that once separated the dining room from the parlor.  First century Romans invented sliding doors, by the way.  All the other doors are hinged, some with the original 1907 brass.  Six doors lie between our bed, now in the place where the dining table once stood, and the half bath. You can count them on one hand, plus the thumb on the other.
There's the door to the country-long kitchen, the door to the enclosed porch/laundry room, the sliding glass door to the deck, two former doorways turned into shelves along the hall, and the final door to the commode.  Anyone who has accessibility issues will know what I'm talking about.  Only those who are "temporarily able" can afford to ignore counting steps or doors.
Crossing these thresholds is part of a long-distance race for Bill now that he lives on a horizontal stage and plane of life.  I appreciate the fact that Germans invented revolving doors in 1881, but I don't want to be stuck in this particular round and round.
Enter Danny, Bellevue's master carpenter, and homo reparens (repairing human). He agrees to create a portal, make an opening in the wall between our former formal dining room, now bed chamber, and the "throne room".  He picks a likely place on the bathroom side, marking a line in the smooth drywall.
Five minutes later he's hit a brick wall, literally.  Who knew, but then two inches to the left of his first cut is the edge of an old doorway. The frame is still standing, hidden between studs. We marvel at the revelation of this portal from the past.
The door, Danny says, will take time. He wants to find one to match the old oak and the brick arch. I don't mind. There will be time to ensure privacy, prevent unwanted attention, or sounds, drafts and odors. Perhaps I'll even install a knocker or a doorbell when the door arrives so we can take turns announcing ourselves. A door is for providing security by controlling access.
We need access, and behold, a passageway appears like an answer to prayer.
Passageways and portals came first in human habitations; the earliest evidence of doors is found in Egyptian tomb paintings, dating only 4000 years ago. Some doors were not even proper doors, but for decoration, designed to represent a gateway to the afterlife. Thinking about this opens the door to a new reading of Revelation 3:7-8 for me.
When is a door not a door? When it's ajar.
Rev. 3:8
"I know all about you. And now I have placed before you an open door, which no one can close.