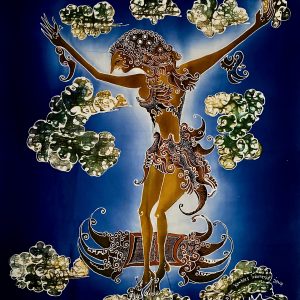 Of the many objects I've been drawn to over a lifetime, a cross is not one. I've sung songs about, admired the art of, told stories about, folded palms to make, and prayed in the presence of, but I've not collected crosses. I gift them, handing them on if one presented itself to my keeping.
I've not explored my psychology in any depth, although I've devoted a goodly amount of time to cross theologies. A cross, with body and without, feels too awe full and awful, too numinous for close proximity.
The events of the last two weeks prompted a search for this tangible symbol of human violence and paradoxically holy resistance and resurrection. It was a gift too precious to give away, a cloth crucifixion crafted by an artist in Indonesia, hand delivered by a Drew alumni, missionary, and friend, Ron Weinbaum.
Packed among my vestments, the gift rests, and I unfold it as gently as if, as it does hold a beloved body. I hear in the background the sound of women, reporting the news of the violent death of women. There were more than three crosses in Jerusalem. The cross was the Roman Empire's invention for crowd control. It took time. It was public assault as well as personal torture. An assault weapon does not take three hours to kill; 3 shots per second, yet the loved ones of those lost hang suspended in public agony for years.
I smooth the royal blue of the sky and sea, gently touch the green islands beneath the wounded feet. There is no cross; the body is suspended by nails against the deep blue of sky and clouds of island green. I know that I don't know what it all means, just as I don't know enough of what I should know about those Asian American women whose lives were so violently ended. My vision has been blurred by staring too long into a Western sun.
What I know is that the cloth is a Javanese Batik, created by Pendetta Aris Kristian Widodo, using a technique that's over 1,000 years old. Aris creates the concept and lays out the design.  A team of Muslim Javanese artisans completes the work. This image of treeless crucifixion was made in the teak forest outside of Yogyakarta near the famous Borobudur Buddhist Temple. What I do know is the artist has reformed my vision of the cross with this Javanese gospel of dying yet rising life.
Now hung, this Indonesian crucifixion covers the door that leads to the world outside. How long? I do not know. Perhaps she will tell me. I touch her hand, and pray, "Christe eleison. Mercy, have mercy."
See: http://www.facebook.com/ron.weinbaum.9/videos/10156562517855787