"Buying the World and Keeping it Company: a feminist reflection on soda" is a performance paper designed to incorporate research on the history of a carbonated beverage and its corporate influence on American identity, patterns of consumption, and global economics. The paper is structured as a socio-poetic reading of a text and an object, a recycled Coke angel from the Coke Store Museum made by women in Guatemala.
Process of presentation/paper
The first action of the presentator is to invite each member to select one recycled angel from a bowl decorated with bottle caps. The name of the woman written on each recycled angel. Each member is invited to read the name of the woman who created the angel aloud.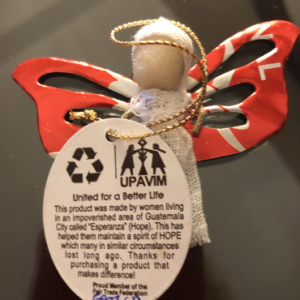 After the naming, the clip of 130 years of Coca-Cola advertising is shared with the gathering https://www.cnn.com/2016/05/06/living/gallery/coca-cola-ads/index.html.
At the conclusion of the clip and any discussion, the paper presentation begins. Sections of the paper are to be read aloud by several readers with the poetic section read by a single reader.
Participants are invited to reflect on the readings or on the meanings that their recycled angel now conveys. This portion of the presentation is closed by inviting all participants to read the final section of the poem "How can one human need…"in unison.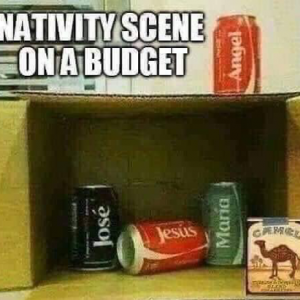 A journey to this manger begins in the jungle
of concrete or kola nut, tenement or kapok tree.
Cocacolonization draws the map wide.
Honduras, El Salvador, Columbia, we know,
(but less from Mexico). India is on the rise,
and the great wall of China has fallen.
From the east again
come seekers more desperate than wise.
World War II
When war broke out and American troops were sent overseas, the Coca-Cola company vowed that any American in uniform should be able to get a Coke for five cents wherever they were. As a result, the company built bottling stations in the Pacific and on the Western front.
Germans recognized Coke to be a "Jewish-American" drink. In response, the Nazi regime only allowed Coke in the country if it displayed a swastika on the bottle, which it did. In the Soviet Union, war hero Marshal Georgi Zhukov loved the drink, but Soviet leader Joseph Stalin viewed it as an American imperialist symbol. As a solution, Coca-Cola developed a clear version of the drink bottled with a white cap and red star to not appear like the well-known American drink.
On the Pacific front of the war, Coke had a tough time reaching the troops. To address the issue, the company created portable soda fountains that were distributed throughout the islands on the Pacific Ocean. Asian countries experienced Coca-Cola. According to the company, the drink spread throughout the islands because, "Coke symbolized the American way of life."
Throughout the war, Coke dispersed ads for their soda all over the world. The majority of the ads displayed an American soldier drinking a soda with the natives of that country. If the ad was in a country outside of the United States, it was written in the native language of that country. Popular ads had positive images of Americans with Coke in New Zealand, Russia, the Philippines, Newfoundland, Italy, England, and in Poland. According to Coca-Cola, "From the jungles of the Admiral Islands to the officer clubs in the Riviera," Coke and America was there. [i]
Miller-lite knights of whiteness counsel the King.
"Send them back to the jungles again.
Guatemala is for all who seek asylum."
It's the pause that refreshes,
not a cause that oppresses children in cages.
It's the real thing.
Washington — The Trump administration on Thursday began deporting migrants who sought refuge in the U.S. to Guatemala, the first step in the implementation of a controversial agreement with the Guatemalan government aimed at requiring asylum-seekers from other countries to request protection in the Central American nation.
The first asylum-seeker deported by the U.S. under the bilateral accord, a man from Honduras, arrived in Guatemala City on Thursday morning, the country's interior minister said. More migrants from neighboring Honduras and El Salvador are expected to be rerouted to Guatemala in the coming days after the U.S. government deems them ineligible for asylum in the U.S. and instructs them to seek protection there.
Enrique Antonio Degenhart Asturias, the interior minister, said Thursday marked the beginning of the "operative stage" of the accord with the U.S., telling reporters in the capital that his government is expecting more arrivals of Honduran and Salvadoran migrants deported by the U.S. next week. He said Guatemala will take steps to gradually increase the number of foreign asylum-seekers it will receive.[ii]
Santa's on his way
riding high on caffeine addiction.
He's slip-sliding away in an old sleigh
fueled by blue gold and holiday fiction.
The secret's in the sauce:
outsource the resource, market new schemes.
Teach every hilltop, each valley, each stream
to sweetly sing in harmony:
"Here's to America's dream."
"Coke positioned itself as more than just a soft drink company; it was an essential contributor to community development, providing not simply an enhancement of public services but a replacement of government goods altogether. To fix growing infrastructural problems, Coke contended, Americans should put their faith in private industry, in companies like Coca-Cola, whose staggering net profits, $ 422 million in 1980, were a testament to its masterful ability to transform natural resources into valuable goods. As the American public lost faith in city managers, they drank more Coke…By 1986, Coke could rejoice that "right now, in the United States, people consume more soft drinks than any other liquid—including tap water."
Roger Enrico, then president and CEO of Pepsi-Cola Worldwide Beverages, praised the industry hallmark, exclaiming that same year, "You choose soft drinks—more often, these days, than you pour yourselves a glass of water or any other beverage—because soft drinks have become a part of American life." What Coke came to realize was that the public would indeed consume repackaged public tap water distributed by a trusted brand, something the company did not think was possible back in the 1970s. Executive C. A. Shillinglaw had proposed the idea of going into the bottled tap water business in 1971, arguing that "the future quality of the public water supplies in the U.S. will continue to deteriorate, thereby generating for bottled water an increasing physical quality advantage." The key, according to Schillinglaw, was to develop a "national trademark for drinking water" that "need not necessarily be tied to water from a single source." He suggested the use of "factory purified water." But critics within the company had doubts this would fly. After all, why would people pay for a product that they could easily get out of their tap at virtually no cost?"[iii]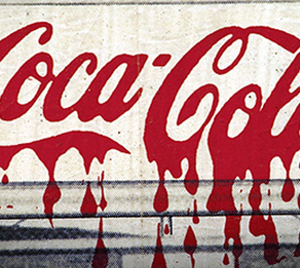 A mural in Guatemala, a country where Coca-Cola has been accused of anti-union violence.
Perhaps the best-known casualty of Coca-Cola's 124-year expansion is Isidro Gil, a union leader whose face, heart, and groin absorbed a total of 10 bullets. The year was 1996. Gil had been lobbying Colombian Coke bottler Bebidas y Alimientos de Urabá for both higher wages and protection from paramilitary hit men who had already assassinated several of his associates, and who had once played soccer in the town square with an elderly man's head. The killers had also been seen sharing Cokes with the bottling plant's manager. In the span of a single day, they murdered Gil, burned the union hall, and forced the remaining members to resign or flee.
Was Bebidas behind the violence? Had Coke's Atlanta headquarters known of the threat but failed to intervene? Was Coke actually responsible for Isidro Gil's death? Michael Blanding's The Coke Machine—part nonfiction narrative, part history of the Coca-Cola Company and the many crimes it has been accused of—works hard to provide answers. Along the way, Blanding explains how a little-known medicinal drink grew into one of the world's most recognized brands, a symbol of both the gleaming mechanisms of free markets and the controversies they sometimes spark.[iv]
So what good are these born-again angels
looking a lot worse for their wear?
Recycled wings. Thin as gauze gowns.
The gods must be crazy.
Where is there power in recycled things?
How free is a market or thought, speech or land
if everyone's wearing a brand?
Sept. 20, 2018
The sexual assault accusation against Judge Brett M. Kavanaugh, President Trump's nominee for the Supreme Court, has prompted unavoidable flashbacks to the confirmation process of Judge Clarence Thomas in 1991.
During the televised hearings, which lasted three days, Anita F. Hill, who then taught at the University of Oklahoma's law school, detailed allegations of workplace sexual harassment by Judge Thomas, who was her supervisor at two government agencies. And Judge Thomas forcefully denied the accusations, claiming they played into stereotypes of black men.
The astonishing testimony aired Ms. Hill's accounts of crude behavior and vulgar language, the likes of which had never before been discussed in the buttoned-up hearing rooms of the United States Senate. The Senate Judiciary Committee's dismissive treatment of Ms. Hill by the all-male, all-white Senate Judiciary Committee empowered a wave of women to run for state and national office.
On Thursday, Christine Blasey Ford, 51, a California-based psychologist who has accused Judge Kavanaugh of sexually assaulting her at a booze-filled high school party, said she would testify before the committee so long as senators offer "terms that are fair and which ensure her safety." As Judge Thomas did in the '90s, Judge Kavanaugh, 53, has categorically denied the accusations and said he will testify before the committee…
Ms. Hill, who was then 35, first testified before the committee on Oct. 11, 1991. Speaking in a calm, even tone, she detailed her accusations of sexual harassment by Judge Thomas, who oversaw her work at the Department of Education and the Equal Employment Opportunity Commission.
Ms. Hill said that Judge Thomas had repeatedly asked her to go out with him in a social capacity and would not take no for an answer. She said he would talk about sex in vivid detail, describing pornography he had seen involving women with large breasts, women having sex with animals, group sex and rape scenes…
"It would have been more comfortable to remain silent," she said. "But when I was asked by a representative of this committee to report my experience, I felt that I had to tell the truth. I could not keep silent."
After Ms. Hill's opening statement, Senator Joseph R. Biden Jr., the Delaware Democrat who was then chairman of the committee, began questioning her on the specific locations of her harassment allegations. She mentioned the "incident of the Coke can," which — as she had described a half-hour earlier — involved Judge Thomas asking her who had put pubic hair on his can of cola.
Mr. Biden asked, "Can you describe it, once again, for me please?"
After a sigh, Ms. Hill did.[v]
It's the drink for every season;
you don't need a reason.
The Yes Girl's outrageously easy, two cherries on top;
the Ritz Boy's a real soda jerk.
They recycle jokes about coke cans and thirst;
turn pubic hairs into public heirs
of the highest court in the land.
It's got a nice ring.  "Can't beat the real thing."
"Yesterday, at the Women's Forum of New York's Breakfast of Corporate Champions, Coca-Cola CEO Muhtar Kent praised Trudeau for his 50 per-cent female cabinet, then continued to say, 'If you're a male and you're at the top, you have to be a feminist, and you have to be proud of being a feminist. Being a declared feminist—I'd even go as far as to positively discriminate, to put it in people's annual assessment.' Much like Trudeau, it seems Kent has been a champion for women: Since he became the leader of the soda Goliath, he's doubled the number of women on the board and increased the external hiring of women by 15 percent, according to Time. He's also helped launch the 5by20 program, an initiative that aims to provide economic empowerment to 5 million women by 2020. Already, about 865,000 women in 52 countries have participated in the entrepreneurial program, Time reports…[vi]
How can one human need face an empire of greed?
There's no wining with one.
But what if there's two, and then three, and then four,
then a score, then hundreds, then thousands,
then millions and more
who risk thirsty tongues,
trash corporate cupids,
treasure truth in the flames,
and if seraphim call,
answer by name.
Heather Murray Elkins Copyright 2019  Epiphany
[i] https://en.wikipedia.org/wiki/.Cocacolonization
[ii] CBS News, by Camilo Montoya-Galvez, updated on: November 22, 2019/3:09 pm
[iii] Citizen Coke: The Making of Coca-Cola Capitalism by Bartow J. Elmore
http://a.co/iwt2lVt
[iv] The Atlanta, Health, "The Pause That Represses? Coca-Cola's Controversies," Daniel Fromson, October 18, 2010.
[v] "Anita Hill's Testimony and Other Key Moments" by Julia Jacobs, From the Clarence Thomas Hearings
[vi] The Conversation, Coca-Cola CEO Muhtar Kent Says: "You Have to Be a Feminist", Jillian Kramer, November 20, 2015.