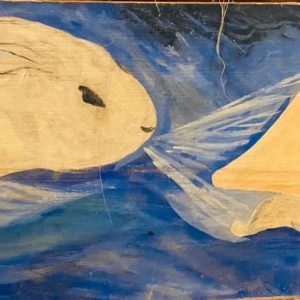 Dreaming in Delaware: Matters of Mothering
We've known for almost 9 months but I'm still not ready.  I'd packed, finished my work on the staff at Duke Chapel, gotten ordained and arrive at our first pastoral appointment in Almost Heaven. I'm eight months pregnant. It made sense to us; Bill will write his doctoral thesis, and help with child care as I serve as an associate pastor, charged with primary care of the young, the old, and whatever other comes my way.
It makes little to nonsense to the congregation. A member of the PPR puts it plain: "You're either going to be a good pastor and a poor mother, or a good mother and a poor pastor."
Harry Light, the new senior pastor doesn't agree, or this story would have ended differently. I also discover the blessed truth of the connection in Donna Light, clergy wife, school nurse, mother of five. She knows what good mothering means.
We have a cherry wood bed ready for our new-born, handed down from my mother's mother's mother, Mary Rebecca Vaughan. But there's little else. Parsonages don't normally provide children's furniture, and there are never enough closets.
Donna advises me to tackle itineracy head on. Moving is going to be in our DNA so I buy an old steamer trunk and she and her daughter Holly decorate it for Daniel Marney Elkins. It will be big enough to store his clothes, his blankets, and his toys. There's even enough space for him to crawl into and play hide and seek.
If memory serves, Sarah Carr, Deaconess, Church and Community Miracle Worker, provides the muse: The Runaway Bunny. I love seeing Margaret Wise Brown's book transform an old steamer trunk into something else, even though I have mixed feelings about its theme. You'd have to know my mother to know what I mean.
In the end, the mothering offered by others, some men and some women, changes the sense of my pastoral scene. Parenting and pastoring are not either/or. Good enough counts on both counts. And over the years I resolve my hermeneutic suspicion of the home bunny story as the plain truth of Psalm 139 settles into my aging bones:
"Where could I run from your Spirit?
Where could I flee from your presence?
If I ascend to heaven, you are there!
If I make my bed in Death, you are there!
If I take the wings of the morning
and dwell in the uttermost parts of the sea,
even there your hand will lead me,
and your right hand hold me fast."
Even here, even now, when I awake,
you are still with me and I am still with you